CROWDED STING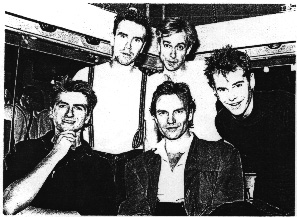 Sting with Crowded House, circa 1987(?) Back row: Nick Seymour and Eddie Rayner.
Front row: Neil Finn, Sting and Paul Hester. (Thanks to Mark McCrite who kindly found the picture.)
---
Recently on both the Crowded House and Police lists, there was talk of Sting's connections with Neil & Tim Finn of Crowded House/Split Enz. As far as documented connections, there is an incident recounted in Chris Bourke's Something So Strong, where Sting walked backstage at a Crowded House concert some years ago and serenaded Neil by singing the lines "Hey now, hey now," from Neil's Don't Dream It's Over. Thinking he was returning the compliment, Neil then proceeded to sing "De Do Do Do, De Da Da Da" back to Sting. However, Sting took it the wrong way and thus Neil had succeeded in inadvertantly offending him!
Another way that the two are connected is by way of producer. Hugh Padgham not only produced many of Sting and the Police's records, but also the Enz's Conflicting Emotions and Time and Tide.nbsp (In fact, when I interviewed Tim Finn and Eddie Rayner for a 25 Years of Split Enz story, both stated that Pagham was their favourite Enz producer. Also interesting is the fact that Padgham produced McCartney's Press To Play, on which Eddie played keyboards, but that's another story isn't it? ; )
Another link between Sting and Neil is refererred to in one of Sting's tour programmes. Sting was asked whether his song All Four Seasons had anything to do with the Crowded House song, Four
Seasons in One Day. Of course it was just a co-incidence and Sting then proceeded to joke that Neil was re-writing Every Breath you Take!
So there you have it folks, all the Sting/Neil Finn connections that I know of...but...if you know of any more, please email me.
Cheers,
Anne-Marie de Bruin
---
NEWSFLASH #1!
Another Sting & Neil Connection........
In the "Nothing like the Sun" Sting tour programme, (1987), Sting was asked for his "Current Listening" selections, to which he replied "Crowded House, Yo-Yo-Ma"! (Thanks to Jason Sheldon.)
---
Crowded House and Sting related Links
Stingchronicity
Calling Sting
Frenz.com
Neil Finn: Try Clicking This
Double Happy: The Music of Eddie Rayner
Suite 101.com NZ Music
Back to Anne-Marie's Finn Photos
---